How To Pick A Lock?
by
Todd Franklin
When it comes to standard pin tumbler locks, the type of locks that are most common on doors, deadbolts, and even padlocks, picking them is not as hard as you might think. Even with lockpicks that you attempt at home yourself or an amateur with a lock picking set, pin tumbler locks do not offer a lot of security against someone that really wants to get into your home. The reason so many homes (and even cars) use pin tumblers is because they are an affordable security solution, but that can have drawbacks as well.


What Is A Pin Tumbler Lock?
Pin tumbler locks are relatively simple mechanisms. Inside the door handle, deadbolt, or any other type of pin tumbler lock is a cylindrical shaft. Inside that shaft is a plug that rotates (what turns when you unlock the door), and inside that plug are holes and pins. Each of the pins on the top side of the cylinder has a spring and the bottom pins are known as the key pins.

When each of these pins are perfectly level with the lock (known as the shear point), the plug will be able to rotate inside the cylinder and the lock will open. If you are trying to figure out how to pick a lock the basics are to get each of the pins at shear point.


Easiest Way To Pick A Lock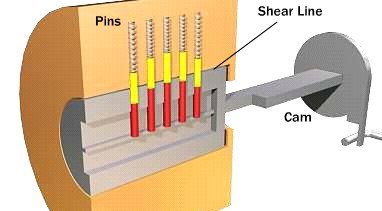 The concept of how to pick a lock is simple (as mentioned above): each of the pins has to reach their shear point at the same time. To do this with lock picks, you have to do each pin one-by-one, making sure that each pin is at shear point and then moving on to the next pin. Once you have done all of the pins the lock will turn over.

The reason you are able to do this is a flaw in many locks: when the first pin reaches its shear point, it can be held in place by rotating the lock's plug just enough that tension holds it in place. Because of this, you can use a set of lock picks to push the first pin into shear position. Then you can work on the next pin, and so forth.

For some locks only a single pin needs to be at shear position and the rest will simply follow suit and the lock will turn over. On more complicated locks, multiple pins will need to be picked at the same time which can be very difficult with lock picks.


Unlocking With Lock Picks May Not Always Work
If you are trying to figure out how to pick a lock that doesn't seem to turn over no matter how many times you try, it may be because you have a lock that it is higher quality than normal. Lock picking is easiest on locks from low-quality brands where the plug, pins, and cylinder are not perfectly straight. With high-quality brands or new locks you may not be able to get the lock to open.

Car locks have pin tumblers but they are most often double sided pin tumblers that have pins on the top and the bottom. Instead of the traditional 5 pins they often have 10. In this case, picking the lock of a car is extremely difficult and the chances are you will not be able to get it open.


Lock Picking 101 - School Of Locksmithery
CarsKeyReplacement.Com implement blistering, competitive cost and professionally trained emergency motor vehicle key replacement bolster in San Jose CA by employing attendants of most established lock smiths. If you got your key broken in your ignition, locked your keys in the car or lost all your car key, our our appreciative agents are wired for every single type of mid-road key replacement or lock-out scene and be on the way to you somewhere in San Jose CA and neighboring immediately to create or duplicate anti theft instrumentation/passive theft system, remote switch blade key, fobik remote or keyless device key for relatively each style of Asian, Japanes, German or American auto manufacturers. No other key-smith establishment in the market can indulge you such a high end open car door and replacement key services at your place of choice at such very competitive price. The game plan of CarsKeyReplacement.Com is that we will never compromise on highest quality parts and labor seeking to clarify our expenses. We will steadily guarantee that you will procure the best service applicable, by a highly qualified and committed staffs at cut-rate.
On any occasion you search for a swift trustworthy supplement remote, ignition key or a keyless entry for your car in San Jose CA and greater region area, Cars Key Replacement should be your first preferential. Whether you are stuck in Campbell, Alum Rock, Cambrian Park or Seven Trees, you don't need to waffle or compare prices between other vehicle replacement keys services in the area. We guarantee economical rates and an immediate ETA. In practically all instances our staffs will appear to your site in a very short period of time equipped with contemporary replacement keys technology adept to help on every sort of car key and lock occurrence you may have. If you cleave the vehicle door lock rekeyed, can not find your ignition key, want to reflash your car's computer or cleave to program a duplicate keyless access device near Sunrise Plaza Shopping Center, WestMed College, Pioneers Shopping Center, San Jose City College or Capitol Drive-In scouting for a road side on site replacement key service in Parkmont, Branham, Almaden Lake, Cherry, Brenning, take a minute to call 24 hrs at (844)362-5397.
When looking an auto motive key replacement service in San Jose CA, it is very deciding to use only a bonded, insured or granted lock-smith establishment considering two head motives, the 1st is that driver believe it or not should use an experienced task-force who can unlock your vehicle door or trunk with no hardship done to the the electrical wiring, the power lock and door frames and the second is that to gather refunds by insurance policy with roadside assistance coverage . CarsKeyReplacement mid-road assistance lock smith for cars are on a prompt call and are adequate to arrive to your juncture as quickly as possible for every single kind of car ignition switch, key or locks dispute 24-7.
Articles / Tips
Lost Keys
- Have you lost your keys with no spare?
Lost keys

→
---
Broken Keys
- Did you broke your key in the ignition?
Broken keys

→
---
Duplicate Keys
- Are you looking for a spare key made?
Duplicate

→
---
More tips →
Our

services
Unique

models
Acura Locksmith
Hyundai Locksmith
Chrysler Locksmith
GMC Locksmith
Audi Locksmith
BMW Locksmith
Dodge Locksmith
Honda Locksmith
Lexus Locksmith
Pontiac Locksmith
Scion Locksmith
Isuzu Locksmith
Infiniti Locksmith
Ford Locksmith
Chevrolet Locksmith
Lincoln Locksmith
Subaru Locksmith
Mercury Locksmith
Buick Locksmith
Coverage

Area
Years
17 06 14 20 2014 2012 2001 16 2020 13 2004 2005 02 2019 03 2007 07 1999 09 2006 2000 2002 2015 2016 12 01 2018 08 98 19 2003 00 11 2009 15 1998 2017 04 05 18 99 2013 2010 2008 10 2011 17 06 14 20 2014 2012 2001 16 2020 13 2004 2005 02 2019 03 2007 07 1999 09 2006 2000 2002 2015 2016 12 01 2018 08 98 19 2003 00 11 2009 15 1998 2017 04 05 18 99 2013 2010 2008 10 2011
Brands
Chevrolet Caprice, Chevrolet Camaro, Acura SLX, Hyundai Eon, Ford Bronco, Infiniti G20, Chrysler Aspen, Dodge Nitro, Subaru Legacy, Hyundai Accent, Buick Rendezvous, Jeep Compass, Chevy Silverado, Buick LeSabre, Toyota Tacoma, Ford Mustang, Freightliner, Mercury Milan, Buick Verano, Dodge Journey, Kia Sephia, Buick Riviera, Ford Econoline, Chevrolet Monte Carlo, Infiniti FX45, Dodge Dart, Chrysler 300C, Ford Focus, Jeep Wrangler, Chevy Cobalt, Ford Escape, Chevrolet Trailblazer, Dodge Stratus, Dodge Avenger, Chrysler Sebring, Hyundai Santa Fe, Honda Ridgeline, Mazda CX9, Pontiac Aztek, Lexus GS350, Acura RLX, Ford Contour, Acura RDX, Honda Civic, Subaru Outback, Chrysler 200, Nissan Leaf, Hyundai Veracruz, Pontiac Firebird, Jaguar, Dodge Neon, Infiniti QX50, Kia Soul, Pontiac G6, Mitsubishi Eclipse, Nissan Juke, Dodge Charger, Toyota Yaris, Kia Optima, Ford F250, Dodge Durango, Saab, Lexus Is250, Ferrari, Acura CL, Hyundai Equus, Chrysler Town and Country, Infiniti G35, Chevrolet Astro Van, Lexus Gx470, Land Rover, Ford Crown Victoria, Buick Lucerne, Honda Accord, Lexus ES300, Cadillac XLR, Kia Sedona, Chevy Malibu, Jeep Commander, Saturn ION, Honda Element, Volvo, Acura EL, Infiniti I30, Cadillac SRX, Ford Ranger, Saturn Outlook, Buick Encore, Buick Terraza, Lincoln Navigator, Ford F350, Nissan 350Z, Infiniti Q50, Infiniti Q45, Toyota Avalon, Audi, Lexus GS430, Scion iM, Chevy Sonic, Suzuki, Nissan Sentra, Chevy Express, Chevrolet Impala, Mercury Sable, Ford Edge, Lexus Is300, Chevy Tahoe, Lexus Ls400, Nissan Titan, Cadillac CTS, Oldsmobile, Hyundai Elantra, Ford Expedition, Lexus ES250, Infiniti QX4, Hyundai Tucson, Peterbilt, Acura RSX, Nissan Cube, Chrysler 300, Lexus GS460, Honda Odyssey, Nissan Altima, Hyundai Veloster, Bentley, Toyota Highlander, Dodge Challenger, Infiniti I35, Lincoln Town Car, Subaru BRZ, Subaru Forester, Scion tC, Saturn Sky, Infiniti QX60, Kenworth, Nissan 370Z, Mazda CX5, Lexus Ls430, Acura TL, Nissan Versa, Chrysler Minivan, Toyota Sienna, Chevy Captiva, Mercedes, Lexus GS450, Dodge Ram, Mitsubishi Colt, Cadillac DTS, Nissan Maxima, Kia Amanti, Mazda Tribute, Buick Rainier, Fiat, Lexus ES350, Chrysler PT Cruiser, Acura MDX, Hyundai Azera, Ford Taurus, Jeep Liberty, Buick LaCrosse, Ford CMAX, Toyota 4Runner, Pontiac Grand AM, Subaru Impreza, Jeep Patriot, Lexus Is350, Scion FRS, Toyota Solara, Honda CRV, Toyota Camry, BMW 328i, Jeep Willys, Dodge Intrepid, Toyota Matrix, Jeep Comanche, Chevy Avalanche, Honda Pilot, Scion xB, Nissan Xterra, BMW M3, Scion xA, Maserati, Nissan Pathfinder, Lexus GS400, Toyota Prius, Ford Fusion, Acura NSX, Jeep Cherokee, Lincoln MKZ, Pontiac Vibe, Toyota Sequoia, Chevrolet Corvette, Volkswagen Jetta, Volkswagen Passat, Jeep Latitude, Hyundai Sonata, Lincoln MKS, Mazda 3, Toyota Tundra, Mazda 6, Ford Explorer, Infiniti Q60, Acura Integra, Mack, Dodge Caliber, Mini Cooper, Cadillac ATS, Acura RL, Toyota Corolla, Mazda CX7, Dodge Magnum, Lamborghini, Hummer, Kia Spectra, Chevrolet Lumina, Hyundai Genesis, Mercury Mystique, Chevy Cavalier, Infiniti FX35, Kia Rio, Mitsubishi Lancer, Toyota Land Cruiser, Buick Enclave, Jeep Grand Cherokee, Kia Sportage, Jeep Renegade, Mazda Miata, Infiniti QX56, Isuzu, Chevy Spark, Porsche, Smart Car, Mercury Cougar, International, Scion iQ, Chevrolet Aveo, Infiniti M45, Toyota Landcruiser, Toyota RAV4, Cadillac Escalade, Toyota FJ Cruiser, Chevy Suburban, Nissan NV200, Honda Fit, Chrysler Pacifica, Pontiac Grand Prix, Chevrolet Cruze, Chevy Equinox, Honda Insight, Ford Excursion, Scion xD, Kia Sorento, Ford F150