Lost Car Keys
by
Todd Franklin
Sometimes we seem not to lose our motor vehicle keys. It is as it they developed a mind of their own and wander of. We tend to look for them in the unlikeliest of places; coat pockets or underneath the couch cushions. Sometimes we find them again, at other times though, we lost them completely. At times like this, the logical option is to get a replacement.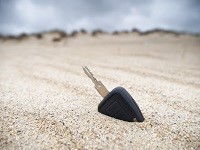 Well this was a viable option over a decade ago before the 90s when you could easily walk into a hardware store and purchase a spare key or walk into a locksmith shop and leave a freshly cut car key. Another option could be to request a spare key from an auto dealer shop. Back then, vehicle keys could be replaced with relative ease. Unfortunately, the simple nature of motor vehicle key design made it an easy target for car thieves. Cars were stolen from where they are been parked because their keys had no security feature to such theft.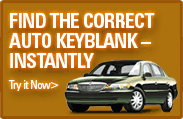 Today, advances in key technology make car theft very difficult, but this welcome development comes at a great cost the high cost getting replacement car keys.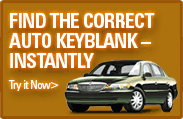 Should you need to replace your car key, why not take a look at some likely costs you might incur along with some other alternatives for replacing them. These quotes are not exhaustive; they were gotten from auto dealership shops in few major cities in the USA. I must not forget to tell you that an hour of labor in these regions costs over 100$, this is to guide your decision making, the prices herein isn't definitive.
Basic keys and remote fob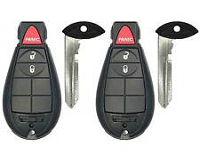 Car keys were originally designed to be functional and were without any security feature. They were not designed to provide secure access to cars. In fact, prior to the mid 90s a car key could easily pass for a house key as it had cuts and groves similar to that of a house key. Due to its simple design it wasn't difficult to get a locksmith to produce a replacement key in case you lose your car key. At those times, vehicle key accessory such as its fobik remote could be purchased from a locksmith or from an online shop. Until the past decade, vehicle key replacement was not expensive but that cannot be said of our times. They are now variety expensive alternatives to choose from.


Transponder keys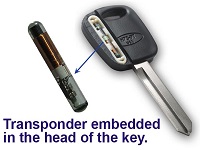 A greater emphasis on creating car keys with advanced security features began in the mid 1990's. From that time on cars makers began to have a transponder chip embedded in the key head. This new security feature made cars more secure. The embedded chip communicates with a receiver in the car ignition via signal to authenticate that the right key has been inserted into the ignition, is it detects that a wrong key has been used, this chip acts as an immobiliser by preventing the car from starting.


Laser cut keys
Another product of advancement in keys technology is the laser cut key. These keys are quite distinct because they are not cut out like the regular keys we see around. Their shanks are a little bit thicker and have fewer grooves on it. Its distinctive feature makes it uneasy to come by because the equipment needed to make this type of key is quite expensive than a regular key cutter equipment. As such, it is rarely replicated due to the rarity of the machine at the local hardware store or locksmith shop.


Flip remote key key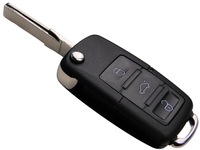 Another type of vehicle key is the flip remote key. It is an improvement over the laser cut key. Its features combine security and cost effectiveness. It possesses a fold-able shank that can be folded into the fob remote when not in use. These keys are designed in way that their components may be purchased separately. This makes replacing this type of key cheaper because should any part of the key be damaged, take for example the shank, only that shank need to be replaced, which can be bought at about 60-70$ depending on where you live.


Smart key
These types of keys are actually not the common keys we see around. Smart keys are basically keys with a fob but without a shank, so the fob is actually the key. It is a technologically advanced key that operates using electronic signal. They are now advanced such that they need not to be inserted in the ignition of the car to turn it on, through the touch of one button, a vehicle engine can be turned on or off.


Better Safe than Sorry
Losing one's car keys isn't a palatable experience. The expense and stress involved while trying to get another one especially when there is an emergency can be wearisome. It is therefore important for one to mitigate these conditions by getting a spare key, program it all by oneself in order to reduce to the labor costs incurred when purchasing a key. Having considered the various ways by which cost can be reduced, the best option will be to get a spare key long before an emergency as this will enable full advantage of the most cost effective alternative at your disposal.


CarsKeyReplacement.Com procure inexpensive, punctual and adept emergency car replacement key boost in San Jose CA by appointing personals of highly credible locksmiths. If you lost the key to the motor vehicle, left the keys in the car or broken key in the ignition, our the task-force at Cars Key Replacement are ripe for any type of emergency lock-out or key replacement case and appear to your place of choice in any place in San Jose CA and nearby swiftly to set up or copy VAT/passive anti theft, fobic key, switch blade key remote or keyless entry key for roughly every single style of German, Japanes, American or Asian auto makers. No other key-smith services business in the business can outfit you such a top automotive door unlocked and keys replacement services on premises at such low price. The method of CarsKeyReplacement.Com is that we will never compromise on quality parts and labor tackling to cut down our costs. We will typically insure that you'll glean an unprecedented service, by a devoted and expert attendant at dime a dozen cost.
As an emergency keys replacement solution in San Jose CA we can come to your site instantly to every single area of Sunol-Midtown, Alum Rock, Campbell and East Foothills, our car key re-placers are distributed everywhere in San Mateo county to administer a top-notch keys replacement services as quick as possible from the minute you disengage your phone. If you are searching for a car key displacement near Evergreen Ranch, Santa Teresa Square Shopping Center, San Jose State University, Flint Creek or Norman Y Mineta San Jose International Airport (SJC) in a search for an emergency on site replacement key solution convenient at your place of choice with a abbreviated response time. Connect with our long list of returning cheerful customers in Bascom, Chaboya, Bonita, Josefa, McCollam, just dial at our dispatching center.
When looking an auto motive key replacement service in San Jose CA, it is very deciding to use only a bonded, insured or granted lock-smith establishment considering two head motives, the 1st is that driver believe it or not should use an experienced task-force who can unlock your vehicle door or trunk with no hardship done to the the electrical wiring, the power lock and door frames and the second is that to gather refunds by insurance policy with roadside assistance coverage . CarsKeyReplacement mid-road assistance lock smith for cars are on a prompt call and are adequate to arrive to your juncture as quickly as possible for every single kind of car ignition switch, key or locks dispute 24-7.
Articles / Tips
Lost Keys
- Have you lost your keys with no spare?
Lost keys

→
---
Broken Keys
- Did you broke your key in the ignition?
Broken keys

→
---
Duplicate Keys
- Are you looking for a spare key made?
Duplicate

→
---
More tips →
Our

services
Unique

models
Toyota RAV4
Ford F-150
Ford Explorer
Jeep Wrangler
Toyota Camry
Ford Fusion
Ford Escape
Nissan Rogue
Nissan Altima
Hyundai Santa Fe
Honda CR-V
Jeep Grand Cherokee
Subaru Forester
Honda Pilot
Toyota Corolla
Volkswagen Passat
Subaru Legacy
Mazda 6
Mazda CX-5
Coverage

Area
Years
17 06 14 20 2014 2012 2001 16 2020 13 2004 2005 02 2019 03 2007 07 1999 09 2006 2000 2002 2015 2016 12 01 2018 08 98 19 2003 00 11 2009 15 1998 2017 04 05 18 99 2013 2010 2008 10 2011 17 06 14 20 2014 2012 2001 16 2020 13 2004 2005 02 2019 03 2007 07 1999 09 2006 2000 2002 2015 2016 12 01 2018 08 98 19 2003 00 11 2009 15 1998 2017 04 05 18 99 2013 2010 2008 10 2011
Brands
Kia Soul, Acura RSX, Chevrolet Astro Van, Ford F150, Chevy Express, Infiniti Q60, Acura MDX, Ford Crown Victoria, Acura TL, Subaru Legacy, Cadillac DTS, Chrysler 200, Ford Edge, Chrysler PT Cruiser, Dodge Charger, Mitsubishi Lancer, Chevrolet Trailblazer, Buick Rainier, Lexus GS350, Chrysler Town and Country, Freightliner, Infiniti QX4, Lincoln Town Car, Ford Econoline, Buick Riviera, Kia Sportage, Jeep Compass, Mercury Sable, Maserati, Ford Escape, Cadillac ATS, Jeep Commander, Kia Amanti, Ford Focus, Nissan Juke, BMW 328i, Jeep Wrangler, Ford CMAX, Nissan Xterra, Toyota Yaris, Buick Rendezvous, Cadillac SRX, Toyota Camry, Lexus ES350, Buick Verano, Nissan Leaf, Pontiac Grand AM, Dodge Durango, Hyundai Accent, Infiniti QX56, Kia Sephia, Jeep Grand Cherokee, Chevrolet Cruze, Hyundai Santa Fe, Mercury Cougar, Jaguar, Hyundai Azera, Acura EL, Jeep Patriot, Mercury Milan, Dodge Neon, Chrysler Pacifica, Saturn Outlook, Chevy Tahoe, Jeep Willys, Toyota Avalon, Chevy Cobalt, Infiniti I35, Dodge Caliber, Ford Excursion, Chevy Malibu, Ford Expedition, Hyundai Veloster, Ford F250, Infiniti QX60, Volvo, Lexus GS450, Nissan 370Z, Toyota Highlander, Acura NSX, Honda Fit, Honda Element, Jeep Renegade, Nissan Sentra, Hyundai Sonata, Acura Integra, Ford Bronco, Scion FRS, Kia Sedona, Lexus GS400, Dodge Avenger, Kia Sorento, Buick Terraza, Hyundai Equus, Scion xB, Ford Fusion, Pontiac Aztek, Dodge Journey, Infiniti I30, Buick Encore, Dodge Nitro, Hummer, Peterbilt, Buick LeSabre, Ford Taurus, Honda Odyssey, Infiniti Q45, Toyota Matrix, Hyundai Tucson, Acura CL, Kia Optima, Lexus ES250, Acura RL, Mack, Scion iQ, Infiniti FX45, Chrysler Sebring, Scion iM, Jeep Latitude, Pontiac Firebird, Suzuki, Nissan NV200, Lexus GS430, Mazda 3, Lexus Gx470, Toyota RAV4, Infiniti G20, Lamborghini, Nissan Altima, Isuzu, Nissan Titan, Infiniti QX50, Toyota Prius, Lexus Ls430, Chevy Silverado, Mazda CX9, Chevy Sonic, Saturn ION, Infiniti FX35, Chevy Avalanche, Pontiac Grand Prix, Toyota Sienna, Chevrolet Aveo, Subaru BRZ, Hyundai Elantra, Toyota Sequoia, Dodge Magnum, Chevy Equinox, Lexus GS460, Lexus Is350, Chevy Spark, International, Acura SLX, Honda Insight, Lexus Is300, Chevy Cavalier, Chevrolet Camaro, Pontiac Vibe, Audi, Porsche, Cadillac CTS, Acura RLX, Mercedes, Toyota Tacoma, Buick Enclave, Subaru Outback, Kia Spectra, Mitsubishi Colt, Nissan 350Z, Honda Accord, Nissan Cube, Ford F350, Infiniti G35, Saab, Chevy Suburban, Oldsmobile, Mitsubishi Eclipse, Dodge Challenger, Subaru Impreza, Scion tC, Dodge Intrepid, Kia Rio, Toyota Tundra, Lexus Is250, Buick LaCrosse, Chevrolet Corvette, Jeep Cherokee, Ford Explorer, Toyota FJ Cruiser, Dodge Ram, Chrysler 300C, Hyundai Veracruz, Buick Lucerne, Infiniti M45, Cadillac XLR, Chevrolet Monte Carlo, Jeep Comanche, Lexus ES300, Ford Mustang, Toyota Solara, Ford Contour, Cadillac Escalade, Honda Ridgeline, Mazda 6, Land Rover, Pontiac G6, Chevrolet Caprice, Chevrolet Lumina, Nissan Versa, Lincoln Navigator, Honda Pilot, Toyota Land Cruiser, Volkswagen Jetta, Chrysler 300, Lincoln MKS, Nissan Maxima, Chrysler Minivan, Toyota Corolla, Fiat, Kenworth, Hyundai Genesis, Honda Civic, Jeep Liberty, Toyota 4Runner, Infiniti Q50, BMW M3, Chevy Captiva, Hyundai Eon, Bentley, Dodge Stratus, Smart Car, Chevrolet Impala, Scion xD, Mazda Tribute, Mercury Mystique, Scion xA, Mazda CX7, Dodge Dart, Chrysler Aspen, Volkswagen Passat, Lincoln MKZ, Subaru Forester, Ford Ranger, Toyota Landcruiser, Mini Cooper, Nissan Pathfinder, Mazda CX5, Mazda Miata, Acura RDX, Honda CRV, Lexus Ls400, Saturn Sky, Ferrari