What is Car Keyless Entry?
by
Todd Franklin
A car keyless entry system (RKS) is an electric lock that controls access and staring of a vehicle without the physical contact of a mechanical key. The keyless entry initially started in the 80's with Ford combination lock keypad located at the outside of the driver's door, when pressing a predetermined code, the door will unlocked and evolved into a keyless entry remote device that using short range radio transmitter technology enable the user to open the door automatically and start the engine by pushing a button just by carrying the device in his pocket.

RKS is widely used on latest vehicles, performing the functions of a traditional key without really touching anything. When within a distance of a 16-65 ft from the car, clicking the remote buttons can unlock or lock the doors and trunk, and may perform other operations (like closing sliding doors and power windows or unlocking the door as soon as the driver touches the door lock entering the vehicle. When seating inside the vehicle, the driver can push a button on the dash board to ignite the engine.


Keyless entry remote programming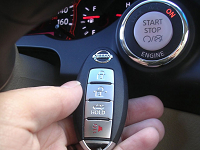 keyless entry uses transponders chip and emit a RF signals containing identity code. This type of key need not just to be cut, but in addition the chip need to be programmed.

Usually, the key can be programmed on board by inserting the car computer into a programming stage. The procedure diverge amongst the different makes, models, and years but in general entails turning the key in the ignition several times to the on position. It can also include pushing hidden switches, removing fuses or opening and closing doors. Once in program mode one or more of the kyless remote buttons is pressed to send identity code to the car's computer (ECU). The car saves the code and exit the programming mode. However, newer vhicles (2013+) require dealership or car locksmiths programming equipment to add or duplicate keyless entry devices.


Where to buy keyless entry
CarsKeyReplacement.Com care cost-effective, timely and highly trained emergency vehicle replacement key serve in San Jose CA by appointing craftsmanship of highly truthful lock-smiths. If you misplaced the keys to the vehicle, left your keys in your vehicle or broken key in the ignition, our we are primed for any style of mobile lock-out or key replacement condition and reach to your place of choice all over in San Jose CA and touching swiftly to copy or set up key-less entry, mechanical, remote keyfob or sidewinder key for loosely every single sort of Japanes, Asian, American or German car-makers. No other lock smith solutions business in the business can grant you such a phenomenal open motor vehicle door and key replacement services on premises at such cut price. The policy of CarsKeyReplacement.Com is that we will never give-and-take on highest quality labor and parts trying to streamline our expenses. We will normally guarantee that you will pick up the best service accessible, by a virtuoso and devoted personal at inexpensive price.
As a mobile replacement key solution in San Jose CA we can visit your juncture rapidly to every single area of Alum Rock, East Foothills, Seven Trees and Fruitdale, our staff are dispersed all over San Mateo county to afford an ace replacement keys services as swiftly as possible from the second you hang up your telephone. If you are searching for a vehicle key reinstatement near Zanker Road Landfill, Milpitas Landfill, Avanti Shopping Center, Miguelita Creek or Washburn Hall in a search for a mobile on site keys replacement solution usable locally with a terse reply. Connect with our long list of pleasant returning customers in Carlton, Cedarville, Ashbridge, Clovercrest, Palmhaven, pick up your smart phone and call at our main office.
When looking an auto motive key replacement service in San Jose CA, it is very deciding to use only a bonded, insured or granted lock-smith establishment considering two head motives, the 1st is that driver believe it or not should use an experienced task-force who can unlock your vehicle door or trunk with no hardship done to the the electrical wiring, the power lock and door frames and the second is that to gather refunds by insurance policy with roadside assistance coverage . CarsKeyReplacement mid-road assistance lock smith for cars are on a prompt call and are adequate to arrive to your juncture as quickly as possible for every single kind of car ignition switch, key or locks dispute 24-7.
Articles / Tips
Lost Keys
- Have you lost your keys with no spare?
Lost keys

→
---
Broken Keys
- Did you broke your key in the ignition?
Broken keys

→
---
Duplicate Keys
- Are you looking for a spare key made?
Duplicate

→
---
More tips →
Our

services
Unique

models
Jeep Locksmith
Subaru Locksmith
Mitsubishi Locksmith
Suzuki Locksmith
Honda Locksmith
Chevrolet Locksmith
Mercury Locksmith
Infiniti Locksmith
Audi Locksmith
Mazda Locksmith
Buick Locksmith
Pontiac Locksmith
Cadillac Locksmith
Lexus Locksmith
Isuzu Locksmith
Chrysler Locksmith
Acura Locksmith
Kia Locksmith
BMW Locksmith
Coverage

Area
Years
17 06 14 20 2014 2012 2001 16 2020 13 2004 2005 02 2019 03 2007 07 1999 09 2006 2000 2002 2015 2016 12 01 2018 08 98 19 2003 00 11 2009 15 1998 2017 04 05 18 99 2013 2010 2008 10 2011 17 06 14 20 2014 2012 2001 16 2020 13 2004 2005 02 2019 03 2007 07 1999 09 2006 2000 2002 2015 2016 12 01 2018 08 98 19 2003 00 11 2009 15 1998 2017 04 05 18 99 2013 2010 2008 10 2011
Brands
Chrysler Aspen, Kenworth, Lexus GS460, Infiniti QX50, Mini Cooper, Chevy Captiva, Chevy Avalanche, Mercury Sable, Dodge Journey, Chevrolet Trailblazer, Jeep Wrangler, Dodge Magnum, Toyota Tundra, Lexus GS350, Chrysler 300C, Cadillac XLR, Kia Soul, Ford Fusion, Chevy Tahoe, Buick LaCrosse, Buick Enclave, Infiniti FX45, Hyundai Elantra, Honda Odyssey, Jeep Renegade, Ford F350, Honda CRV, Dodge Caliber, Chevy Spark, Freightliner, Nissan Juke, Hyundai Santa Fe, Mercury Mystique, Acura RLX, Buick Encore, Mercury Cougar, Chevrolet Lumina, Chevy Cavalier, Subaru Legacy, Dodge Challenger, Chevy Equinox, Chrysler 300, Kia Amanti, Jeep Comanche, Toyota Solara, Lincoln Navigator, Dodge Durango, Mazda 3, Honda Element, Honda Ridgeline, Ford Mustang, Nissan Titan, Scion xB, Buick Rendezvous, Ford Contour, Nissan Altima, Infiniti Q50, Chevrolet Corvette, Mazda CX9, Dodge Ram, Hyundai Eon, Infiniti G35, Nissan Leaf, Toyota Land Cruiser, Chevy Sonic, Kia Optima, Jeep Patriot, Dodge Neon, Chrysler Sebring, Honda Accord, Acura CL, Lexus Is300, Land Rover, Hyundai Veloster, Porsche, Jeep Commander, Dodge Dart, Ford Crown Victoria, Lexus ES350, Scion xD, Hyundai Sonata, Ford Bronco, Cadillac SRX, Mercury Milan, Mitsubishi Eclipse, Cadillac DTS, Chrysler PT Cruiser, Chrysler Pacifica, Dodge Nitro, Kia Rio, Jeep Latitude, Nissan 350Z, Nissan Maxima, Acura EL, Hyundai Azera, Ford Econoline, Nissan Pathfinder, Nissan Xterra, Subaru Forester, Ford Taurus, Kia Sephia, Buick Riviera, Acura Integra, Ford Explorer, International, Lexus Is250, Ford CMAX, Hyundai Genesis, Lexus ES250, Buick LeSabre, Ford Escape, Toyota Camry, Mitsubishi Lancer, Chevrolet Camaro, Lexus Ls430, Mazda Tribute, Lexus ES300, Subaru BRZ, Jeep Liberty, Cadillac Escalade, Infiniti M45, Pontiac Grand AM, Chrysler Minivan, Infiniti I35, Nissan Cube, Infiniti Q45, Acura NSX, Dodge Avenger, Jeep Willys, Hyundai Veracruz, Acura RL, Pontiac G6, Acura TL, Volvo, Honda Insight, Cadillac ATS, Dodge Intrepid, Chevy Suburban, Buick Rainier, Lexus GS400, Kia Sorento, Toyota Yaris, Toyota Sienna, Isuzu, Lexus GS430, Chevrolet Aveo, Maserati, Mazda 6, Hyundai Equus, Scion iQ, Chrysler 200, Dodge Stratus, Mazda CX5, Kia Sedona, Acura RDX, Chrysler Town and Country, Pontiac Grand Prix, Cadillac CTS, Dodge Charger, Saturn Outlook, Ford Excursion, Jeep Grand Cherokee, Buick Verano, Pontiac Vibe, Infiniti FX35, Chevy Cobalt, Toyota Matrix, Chevrolet Caprice, Toyota RAV4, Jeep Cherokee, Buick Terraza, Chevrolet Impala, Ford Expedition, Chevy Malibu, Toyota Landcruiser, Toyota 4Runner, Acura SLX, Infiniti QX4, Smart Car, Scion tC, Toyota FJ Cruiser, Toyota Highlander, Saturn Sky, Acura RSX, Volkswagen Jetta, Lexus Ls400, Nissan NV200, Volkswagen Passat, Lincoln MKZ, Toyota Tacoma, Nissan Versa, Honda Pilot, Bentley, Saab, Mazda CX7, Hummer, Kia Sportage, Saturn ION, Lincoln Town Car, Nissan 370Z, Honda Civic, Honda Fit, Suzuki, Toyota Prius, Lexus Gx470, Mazda Miata, Oldsmobile, Scion xA, Chevrolet Cruze, Ford Focus, Mercedes, Lincoln MKS, Infiniti QX60, Toyota Sequoia, Acura MDX, Scion FRS, Chevrolet Astro Van, Pontiac Aztek, Chevrolet Monte Carlo, Infiniti QX56, Ferrari, Lexus GS450, Mitsubishi Colt, Jeep Compass, Ford F250, BMW M3, Chevy Silverado, Toyota Corolla, Buick Lucerne, Jaguar, Subaru Outback, Mack, Pontiac Firebird, Infiniti I30, Ford Ranger, Scion iM, Hyundai Accent, Infiniti G20, Toyota Avalon, Audi, Fiat, BMW 328i, Lexus Is350, Lamborghini, Nissan Sentra, Ford Edge, Ford F150, Subaru Impreza, Kia Spectra, Chevy Express, Peterbilt, Hyundai Tucson, Infiniti Q60