Toyota Camry
by
Todd Franklin
Toyota Camry Lost Key
When you lost your Toyota Camry key and you don't have a spare, there are number of places you can make a replacement key. Your first option is to check if you can find a Toyota dealership, if they are not available, you can go through a car locksmith company. Both of them will give you the same quality of work, the only difference is the type of service and the amount you have to pay. A Toyota dealership may require you come down to their shop or even tow you car to their dealership before you can make a new key. On the other hand, a locksmith company can come right away to your location and make you another key on the spot. As far as you have your VIN number, the locksmith or the dealership can make you another key on the spot.


Toyota lost key finder


If there is any reason why the dealership cannot make you a replacement key with your VIN number, a locksmith can use alternative tools and methods to make another key for you. We always recommend that you shop around for the best price before deciding on which one to go for.


Toyota Camry Key Won't Turn The Ignition
There are usually two reasons why your Toyota Camry key won't turn your ignition! A worn out key is usually the common reason why a key won't turn ignition. In this situation, you cannot fix the problem by making a copy of the same key. We recommend that you have a new key made by the VIN number information or key code in order to effectively fix the problem. A Toyota dealership or locksmith can help you make a new key by the VIN number or key code.

Another major reason why your Toyota Camry key won't turn the ignition is because wafer - which is one of the parts in the ignition cylinder, is stuck. The recommended solution for this problem is to call a locksmith and have them rekey your ignition cylinder.


Toyota Camry Spare Key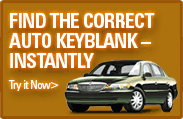 You can make a spare for your Toyota Camry which was made in the years 1983 to 1997 at a Toyota dealership, hardware stores or a locksmith store. If you want to try hardware store, we recommend you go to Ace Hardware


Replacing Toyota Camry Battery


Making a key duplicate for Toyota Camry made in the years 1998 and up is a bit difficult and pricy. Apart from cutting the key, it also needs to be programmed to your car's immobilizer. A Toyota dealership or a locksmith company can help you to make this key.


Program Toyota Camry weys and remotes
Buying Toyota Camry keys online
Ordering a key blank online is a cheaper and easy way to make a duplicate key if you have some extra time. It also helps you to save money. You can search for a blank key on amazon.com, ebay.com or ikeyless.com. When you get your blank key through mail, you will still need to take your key to a Toyota dealership or you can call a locksmith company to come to your location and cut and program the key for you.
CarsKeyReplacement.Com grant on-demand, highly qualified and competitive cost mobile car replacement key serve in San Jose CA by hiring task force of highly dependable locksmiths. If you locked yourself out of car with the keys in, got your key broken in ignition or lost all your motor vehicle keys, our we are apt for every single sort of road side keys replacement or lock-out incidence and drive to you anywhere in San Jose CA and surrounding promptly to duplicate or originate keyless entry device, V.A.T.S/P.A.T, transponder or metal bladed key for relatively each sort of Asian, German, American or European vehicle makers. No other lock man business in the trade can transfer you such the absolute best automotive pop a lock and key replacement services at your site at such fair price. The policy of CarsKeyReplacement.Com is that we'll never give-and-take on quality parts and labor seeking to clarify our costs. We'll steadily safeguard that you will receive a rare service, by a sharp and sworn staff at low price.
As a mobile replacement key service in San Jose CA we can reach to your place of choice instantly to each area of Seven Trees, Fruitdale, East Foothills and Cambrian Park, our task-force are spread far and wide Santa Clara county to cater a special replacement keys solutions as fast as possible from the second you sever your phone. If you are scanning for a motor vehicle key compensation near Santa Teresa Village Shopping Center, Los Gatos Creek, Washburn Hall, Riverside Golf Course or Norman Y Mineta San Jose International Airport (SJC) scouting for a mobile on the spot replacement keys service applicable at your place of choice with a brief reply. Connect with Cars Key Replacement long list of returning merry customers in Cornwall, Checkers, Atlanta, Broadway, Southwest, pick up the smart phone and dial at (844)362-5397.
When looking an auto motive key replacement service in San Jose CA, it is very deciding to use only a bonded, insured or granted lock-smith establishment considering two head motives, the 1st is that driver believe it or not should use an experienced task-force who can unlock your vehicle door or trunk with no hardship done to the the electrical wiring, the power lock and door frames and the second is that to gather refunds by insurance policy with roadside assistance coverage . CarsKeyReplacement mid-road assistance lock smith for cars are on a prompt call and are adequate to arrive to your juncture as quickly as possible for every single kind of car ignition switch, key or locks dispute 24-7.
Articles / Tips
Lost Keys
- Have you lost your keys with no spare?
Lost keys

→
---
Broken Keys
- Did you broke your key in the ignition?
Broken keys

→
---
Duplicate Keys
- Are you looking for a spare key made?
Duplicate

→
---
More tips →
Our

services
Unique

models
Buick Locksmith
Lincoln Locksmith
Mercury Locksmith
GMC Locksmith
Infiniti Locksmith
Mazda Locksmith
Isuzu Locksmith
Dodge Locksmith
Ford Locksmith
Saturn Locksmith
Volkswagen Locksmith
Audi Locksmith
Mitsubishi Locksmith
Acura Locksmith
Lexus Locksmith
Toyota Locksmith
BMW Locksmith
Chevrolet Locksmith
Kia Locksmith
Coverage

Area
Years
17 06 14 20 2014 2012 2001 16 2020 13 2004 2005 02 2019 03 2007 07 1999 09 2006 2000 2002 2015 2016 12 01 2018 08 98 19 2003 00 11 2009 15 1998 2017 04 05 18 99 2013 2010 2008 10 2011 17 06 14 20 2014 2012 2001 16 2020 13 2004 2005 02 2019 03 2007 07 1999 09 2006 2000 2002 2015 2016 12 01 2018 08 98 19 2003 00 11 2009 15 1998 2017 04 05 18 99 2013 2010 2008 10 2011
Brands
Celsior, Tiara, Belta, Etios, Aygo, 88C, EA, Land Cruiser, 7, 86, Aurion (XV40), Coaster, Carina, Cressida, TS030 Hybrid, Master Line, Innova, Altezza, AE86, Crown Majesta, AK, Probox, AC, Land Cruiser Prado, Mark X ZiO, BJ, Spacia, Hilux, Camry, Super, IMV, Rush, Carina II, Lexcen, Sportivo Coupe, BA, Avanza, SF, Classic, Ractis, Corsa, RAV4 EV, Previa, Publica, Celica LB Turbo, Quick Delivery, Sienta, 88C-V, Sparky, Corona EXiV, Limo, AE85, Sienna, Opa, Celica GT-Four, Avensis, Chaser, Tercel, Noah, Carina ED, GT-One, 700, T100, SA, TS040 Hybrid, Caldina, Century, Venza, Corolla Rumion, G Sports, Sports 800, Kluger, Granvia, Corona Mark II, Progrès, RegiusAce, AA, Blizzard, 92C-V, Ipsum, Solara, Prius, Mark X, Vanguard, Sequoia, Duet, Crown Eight, Sprinter Marino, Supra, Master, Platz, Soarer, Prius Plug-in Hybrid, Mark II Blit, Highlander, Soluna, Isis, AE, Sera, Crown, Agya, Corona, 1000, Paseo, Starlet, Sprinter Trueno, Vios, FCHV-BUS, Qualis, Revo, Mega Cruiser, Echo, Curren, Pronard, FJ Cruiser, Tarago, RAV4, Prius v, Comfort, Avalon, Premio, Landcruiser, TownAce, Aristo, SC, Celica, Fortuner, RR, RH, Porte, AK10, Briska, RAV4 Premium, Trailer T10, Tacoma, Prius c, Succeed, Scepter, Masterline, Sprinter, HiAce, Tundra, Allion, Fun Cargo, Auris, Kijang, 4Runner, Mark II, Stout, EB, Origin, Matrix, Verso-S, ist, Yaris, Grand HiAce, AB, 2000GT, A1, Vista, RiN, Rukus, TS010, Verso, Trekker, Corolla, Alphard, Cresta, Harrier, Gaia, MR2 Spyder, Regius, Verossa, Type 73 Medium Truck, Raum, Soluna Vios, Mirai, Hilux Surf, MiniAce, T-18, MasterAce, bB, RAVEV, iQ, RAV4 Adventure, LiteAce, Brevis, Aurion, 90C-V, SD, Pixis Truck, Vienta